on
May 29, 2003
at
4:56 pm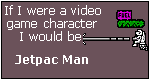 I am Jetpac Man.

I love the outdoors; the sense of freedom, of adventure. I love the sensation of free-fall, and would parachute and bungee jump on a moment's notice. I know where I want to be, and I strive to get there, making great effort to collect what I need. I let nothing stand in my way. What Video Game Character Are You?
Well, obviously.. … err. it says if i'm not jetpack man I'd be: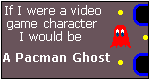 I am a Pacman Ghost.

I like to hang around with friends, chatting, dancing, all that sort of thing. We don't appreciate outsiders, and do our best to discourage others approaching us. I enjoy occasionally wandering around randomly, and often find that when I do so, I get to where I wanted to be. What Video Game Character Are You?
much cooler.